Basic data:
Apartments Ines are situated near the center of town and 250 m from sea.
House Ines offers two very nice, newly built apartments.

Some important objects:
Bus station

300 m

Port

300 m

Ambulance

300 m

Nearest market

50 m

Piazza

50 m

Pizzeria

200 m

Nearest restaurant

200 m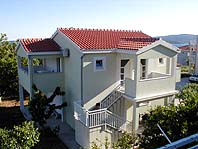 House - entrance to apartments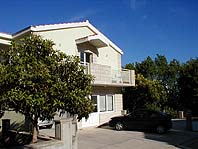 There is a private parking place in front of house Ines
House is accessibile by car. On private property there is parking space for your car.


Sport facilities:
Soccer court

30 m

Basketball court

30 m

Tennis court

1000 m

Diving center

1000 m
Accomodation units
Apartment for2+2 persons

On the first floor of the house. 32 square meters of space. With separate entrance.
Consist of kitchen with dining room; 1 bedroom; bathroom and terrace.
prices from 7,5 to 12,5 EUR per person per day
cat: ***
more detailed
Apartment for 2+2 persons

On the first floor of the house. 32 square meters of space. With separate entrance.
Consist of kitchen with dining room; 1 bedroom; bathroom and terrace.
prices from 7,5 to 12,5 EUR per person per day
cat: ***
more detailed