About the house:
Vitaljic apartments - Trpanj are located about 600 meters from town center and about 200 meters from beaches. About 20 meters from house begins pitoresque walking path by the seaside. Along the path you can also visit different beaches. Among others, there are Blace bay with healthy mud.
Some important objects:
Bus station

600 m

Port

600 m

Ambulance

600 m

Nearest public phone

50 m

Nearest market

50 m

Piazza

600 m

Pizzeria

300 m

Nearest restaurant

300 m

Apartments Vitaljic - Trpanj
click to get larger view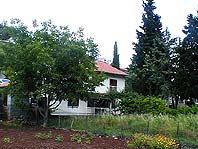 House from the south side
click to get larger view
House is accessibile by car. On private property there is parking space in shade for your car. There is a barbique available for house guests.
Smoking is allowed.
There is a possibility of organizing boat trips and sightseing of Trpanj from the sea.
Your hosts are fluent in English, and can use Czech and Polish languages.


Nearby Blace bay with healthy mud
Sport facilities:
Soccer court

10 m

Basketball court

30 m
Accomodation units
Apartment for 2+1 persons

On the first floor of the house. 35 square meters of space. With separate entrance.
Consist of kitchen with dining room; bedroom; bathroom; balcony.
prices from 7 to 11 EUR per person
cat: ***
more detailed
Apartment for 2+1 persons

On the first floor of the house. 25 square meters of space. With separate entrance.
Consist of kitchen with dining room with bedroom; bathroom; balcony.
prices from 7 to 11 EUR per person
cat: ***
more detailed
Apartment for 2+1 persons

On the first floor of the house. 20 square meters of space. With separate entrance.
Consist of kitchen with dining room; bedroom; bathroom; terrace.
prices from 7 to 11 EUR per person
cat: ***
more detailed
Apartment for 2+1 persons

On the first floor of the house. 45 square meters of space. With separate entrance.
Consist of kitchen with dining room; living room; bedroom; bathroom; big terrace in garden.
prices from 7 to 11 EUR per person
cat: ***
more detailed