Medieval churches

St. Vid church

Croats enriched this region by their churches since 14th century.
Thera re numerous churches dedicated to medieval guardian saints. Those are: St. George - as defender of christians of medieval evil forces, chapel of St. Vid - protector of farmers...
Main church of St. Vid got rebuilt in 17th century, so it was dedicated again, this time to Our Lady of Karmen.

Recommandation: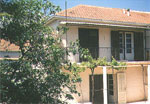 Dajak apartments - Orebic. Enjoy virgin pure Peljesac nature - while still having all advantages of urban way of living.
info
Seafront traditional house

Captain's house - OREBIC
Traditional Orebic home, divided from the beach and the promenade just by it's little garden. Old romantic captain's house now can be your family holiday home.
Captain's house Orebic - info
Franciscan Monastery:

Great trip destination on St. Elliah hill above Orebic. Manastery, museum and observation point well worth of your time and effort needed to get there.