Cultural sights in Orebic
For those who likes to feel history and atmosphere of town among physical remains of its past, Orebic offers numerous authentic monuments of past maritime and economic good and bad times.
Franciscan Monastery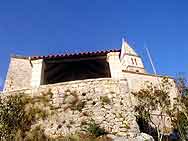 Franciscan monastery - the other perspective

On the hill immediately above the harbour, there was large fort whose walls, specially from north side are well preserved.
Position, layout, and construction of this fort suggest it was built in the late antic age.
This interesting archeologic monument is also a great outlook.

Muncipal building, Maritime society of peljesac
building, harbour
Interesting newer monuments are Muncipal building, built in 19th century, building of Maritime society of Peljesac, and harbour which is rearranged in 1892.

History - page 1of 2
next
Apartment - Orebic:

True holiday home - Ivanita's owner's residence
Fully equipped family flat - close to the most beautiful beach in Orebic - for affordable price
Orebic - Apartments Ivanita
Apartment - Orebic:
Dajak apartments - Orebic.
Enjoy all qualities of urban living, still in splendid and peaceful environment, close to the sea and the main beach.

Orebic -
apartments Dajak