Cultural monuments
For those people who like to absorb history and atmosphere of a place between physical remains of its past, Trpanj offers numerous historical monuments, interesting because of both - historical and aesthetic qualities.
Gradina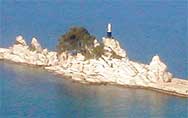 Gradina has a beautiful view on a Madonna's statue - one of importances in Trpanj.

On the hill above harbour was situated a large fortification whose walls still exist, and they are well preserved, especially on the north side.
Position, ground plan and construction of this fort tell us that it was build in late ancient times.
This interesting archeological monument is also a great belvedere.
The church of St. Peter and Paul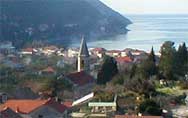 St Peter and Paul's church is the main church in Trpanj and it's a place of ordinary liturgy

First mentioning of this church was in historical written documents in 15. 09. 1957. At first, it was a small church but, as time was passing by, some additional parts were built. The most important artistic sacral piece is a statue of Madonna of Rozarija, brought in 1885. from Italy. Since that day the print of statue was in communal seal, and the day of bringing statue was celebrated as a holiday till 1912.
Historical monuments - page 1of 3
next
Apartment - Trpanj:

Apartments Vitaljic
Family private accomodation in pitoresque Trpanj.
Apartment - Trpanj info
Divna:

If you are planning to spend your vacation in Trpanj, don't forget to visit nearby destinations, specially beautiful beach Divna.
Apartment - Trpanj:
Palma apartments - Trpanj
Peaceful envirnomtent, beautiful view, proximity of the sea
Palma apartments - info