Caffes and restaurants in Orebic
Orebic has numerous caffes where you can, either in air conditioned interriour or pitoresque exteriour along the seaside, spend pleasant moments with your friends or family.
Many restaurants are caring that you can taste Peljesac, either in Orebic or surrounding villages. You may decide to try authentic dalmatian dishes or standard offering as you may be used at home.
Discoteques and night clubs in Orebic
Let's be honest. Orebic isn't Las Vegas, and if you want to party all night and sleep whole day, you would probably make other choice.
However, offer of night clubs and discoteques is, especially during summer season, quite satisfying even for youngsters desiring night life.
Except standard programs, during summer almost each weekend there are concerts of the most popular Croatian performers, or techno parties with the best Croatian and European DJs.
Apartments - Orebic: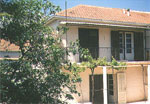 Dajak apartments - Orebic. Enjoy virgin pure Peljesac nature - while still having all advantages of urban way of living.
Dajak apartments - info
Apartments - Orebic :

Apartment M - Orebic.
Exclusive oportunity to enjoy sea, and sun in luxury equipped studio apartment at Orebic seafront
Apartment M - Orebic